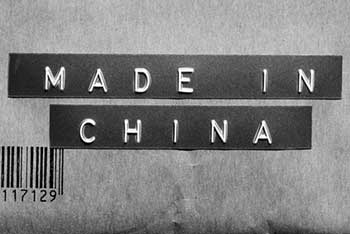 Through the trading groups we work with in China, we have immediate access to manufacturers of many types of products made in China.
List of Products That We Commonly Source From China
The following China products list is only a general representation of products we source from China. If you don't see the products that you're interested in sourcing from China listed below, we encourage your to contact us to discuss your needs.
In general we work with most products made from metal, plastic, wood, stone, ceramic, glass, leather or nylon, in addition to clothing or apparel made in China. We do not work with chemicals or food products.
Apparel accessories
Automotive Parts & Supplies
Batteries
Bearings
Bicycles and accessories
Cable
Cell Phone Accessories
Computer accessories and parts
Construction Equipment
Electronic Equipment
Fasteners
Fitness Equipment
Granite Countertops
Granite Products
Golf Products
Hardware
Kitchen accessories
Machine Tools
Machinery
Magnets
Material Handling
Medical/surgical parts
Musical instruments and accessories
Office Supplies & Equipment
Pet Products
Plastic Products of all kinds
Pneumatic Tools
Pipe and pipe fittings
Precision measuring tools
Power cords
Souvenir Items
Sports & Fitness Equipment
T Shirts
Telephone Equipment
Tires and tubes
Tools
Toys
Transportation Industry
Watches
Wheels for cars and trucks
If you're ready to get a quote to get your products made in China, please don't hesitate to contact us today.