Maximize Efficiency with Our China Contract Manufacturers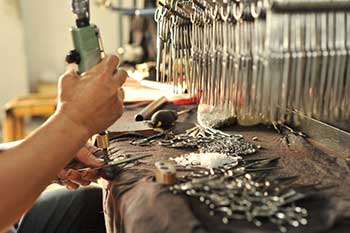 Have a part or product you want to get made on a production basis by a Chinese contract manufacturing company? We offer you a wide range of contract manufacturing services in China, including:
One source for all components
We can source parts from multiple factories, perform assembly, and final packaging. One of our customer's products has nine different factories involved.  Our partner companies in China manage the entire manufacturing process from start to finish.
Qualified contract manufacturing companies with a wide range of processes, including:
Castings
CNC Turning
CNC Milling
Laser Cutting
Waterjet abrasive machining
EDM
Laser Engraving and other marking processes
Electronics
Extrusions
Fabrication
Grinding (centerless, CNC, cylindrical, form, gear, surface, thread, and more).
Heat treating
Finishing of all types; chrome plating, electroless nickel plating, zinc plating, anodizing, black oxide, hard chrome plating, and more.
Packaging
Painting
Powder Coating
PCB Assemblies and components
Plastic Injection Molding
Thermoforming
Vacuum forming
Punching
Rubber Molding
Screw machining
Sheet metal fabrication
Stampings
Tube bending and fabrication
Welding…
And more.
Sources that can produce product in a wide range of materials, including plastics, metals, wood, rubber, textiles, stone materials, glass, ceramics, and more.
Competitive pricing
China's average manufacturing rate is $2.00 an hour, vs ten times that and more in Western countries.
Molds typically cost 80-90% less to make in China, saving thousands of dollars in start up costs.
Large scale production capacity
We work with many contract manufacturing China companies that can produce large volumes of parts.
Quality control
Our partner companies in China will inspect the shipments. Additionally, we have contracted with an independent, third party inspection company that can provide on-site inspections and provide a report, complete with pictures, of their findings.
We just need your drawings or a sample to get a free quote.
Ready to get started? Contact Us now to discuss how we can help you leverage contract manufacturing companies in China.