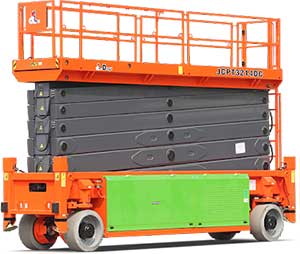 Lifts for Construction, Warehouses & More
Our partners have access to an extensive range of products. We can source most kinds of lifts you may need including vertical lifts, boom lifts, scissor lifts, and aerial stock pickers. Our options include electric lifts or diesel engine powered. We have access to more lifts than listed below, so if you don't see what fits your needs, let us know and we'll see if we can find what you are looking for.
Scissor Lifts
The scissor lifts we can source have all terrain tires and can make it through rough areas. They can reach top heights of 72 feet. They are excellent for a wide range of working conditions and can handle most environments.
General Specs
Max. Working Height: 22 Ft.
S.W.L: 800 lbs. / 1000 lbs.
Notable Features
4×4 driving that allows outdoor & off-road capability
Large extension platform for a wider working range
 Automatic hydraulic leveling outriggers for better stability.
Folding rails makes transportation convenient
Driving speed: 6.1km/h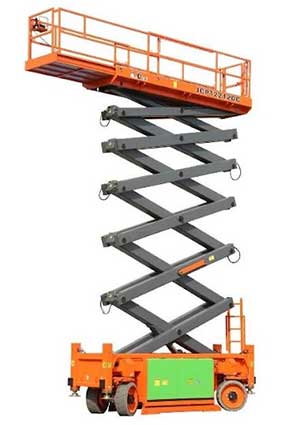 Telescopic Boom Lifts
We can source high quality boom lifts developed by Italian engineers and have high end performance security configuration, with large load, strong power, easy maintenance, high chassis, low fault, high energy saving performance and stable control.
General Specs.
Max. Working Height: 100 Feet
Max. Horizontal Reach: 75 Feet
S.W.L: 1000 lbs.
Notable Features
Axle integrated 4WD system allows for off-road performance
Equipped with platform anti-extrusion device, start stop protection when extrusion occurs
All the parts are at both sides of the chassis, making maintenance convenient
The center of gravity moves down, stabilizing the lift
Aerial Stock Picker
The self-propelled aerial stock pickers we can source are perfect for warehouses and supermarkets.
General Specs
Working height: 21 Feet
S.W.L: 661 lbs.
Notable features
Wide Cargo Platform for a variety of applicability
Classic Controller
Double brake disc, safety is high
Cylinder holding valve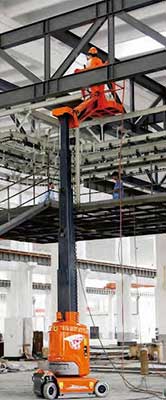 Vertical Lift
Our vertical lifts are self-propelled and have efficient power storage. They can be used for a variety of purposes including hotels, airports, grocery stores, and warehouses.
General Specs.
Working Height: 37 Feet
S.W.L:440 lbs.
Notable features
345°Turret rotation
3m horizontal extension, covering more working areas.
Touch screen allowing for convenient quick fault diagnosis and function setting
Automatic pothole protection