Branding is one of the most important parts of any company. Take the general opinion about golf itself. Most people think it's just a sport for those more advanced in years. This presents a huge opportunity for all the golf facilities out there to break that stereotype and tap into huge untapped markets.

Branding is the process of creating, displaying and marketing your name, colors, logo, or any other visual representation that differentiates it from other companies. Good branding will be pleasant to look at and instantly recognizable. The best branding will create a positive emotional bond between your brand and the customer. Your branding is one of the most important parts of your business because it sets the tone for the experience your customers can expect to experience.
How you brand your golf course will guide both your business decisions and the types of clients you'll attract.
Using Effective Branding for Your Goals
Here are 3 examples of very different types of golf courses, yet each has its own personality and capacity for success.
The Corporate Golf Course

This golf course is a very clean, and very professional golf course. Everything about it is professional. It can be warm and inviting, but not obtrusive or obnoxious. The golf course will be beautiful and will be built for business meetings, where the game of golf is as much a part of sealing the corporate deal as a pen on the contract. Everyone there is dressed well and the atmosphere has an upscale feeling to it.

The Family Friendly Golf Course

This one has a very relaxed atmosphere. Everyone is dressed very casually. Families are made welcome, and the atmosphere is relaxed. People will be dressed very casually, in shorts and t-shirts. Children are not discouraged from coming and playing on the course. The ambience will be warm and inviting and everyone will be made to feel welcome.

The Golf Training Center

This last golf course is geared towards training golfers. They have several trainers on staff, organize and host golf events, and are all around serious about golf. They'll have special training areas designated for golf. This golf center's branding will be designed to attract those serious about improving their skill on the game.
These 3 examples of golf courses are all very different. Each has a different vision and is meant to draw a different sort of person. This does not make one better than the other. It just means they're different, and the branding should reflect your unique business, goals and target demographic too.
Each should match the theme of the course to their branding. Their seating, dress code for employees, the way employees talk to patrons, decorations, wallpaper, advertising, should all be in line with your branding and vision for your golf course.
Your Brand. Your Mission. Your Course.
In marketing there is a saying that if you try to reach everyone, you'll end up reaching no one. You'll have to decide who your target group of people you want to visit your course is. Branding is more than just a business card, a logo, and a website. It's a vision for your company's future. Take TaylorMade, one of the leading golf brands in the world. Their mission is "To be the best performance golf brand in the world." Everything they do is guided and directed under that mission statement.
So as a golf course, what will your mission be that you will brand your course with? It could be something similar to the Bay Colony's where their goal is to be the premier golf club for not just golfing but dining and social experiences as well. Your golf course's branding, how you present your course to your customers, and everything about your marketing as well should be in line with your vision.
Promotional Products – Expanding Your Impressions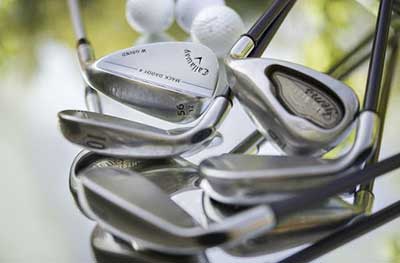 And of course, your golf course's equipment should also be customized with your branding. From golf balls, to divot markers, bags and to the clubs themselves. People should be able to see your logo and be reminded of your course, the experiences they have had there, or are looking forward too.
And, if you sell the golf equipment or give away complimentary golf balls or other products that could be promotional golf items, you have another source of marketing. People see your logo and that helps build and establish brand recognition.
Buying Affordable Branded Golf Products
We can help you source and buy from manufacturers of golf equipment. We have access to manufacturers that can make you quality golf equipment and personalize it with your brand. There are many customization options depending on the product including lasering and CNC machining for metal products such as clubs, and decals and screen-printing for products like golf balls. Here in Chandler, Arizona, deep in the heart of one of the most prominent golfing states, we understand the type of quality that is needed for both you and your customers.
We know that your customers will have high expectations of you and your products. That's why we've made sure we work with companies that will deliver the quality you need to match your golf brand's vision.