We have partner companies in Qingdao, Ningbo, and Shenzhen who source products for us.
To most of the world, those names may not register as much as cities like Hong Kong or Beijing, but they are actually key manufacturing hubs in China. Often, when I mention these cities to a customer, I understand that they don't have a point of reference for these cities; the below picture points to the cities that were mentioned.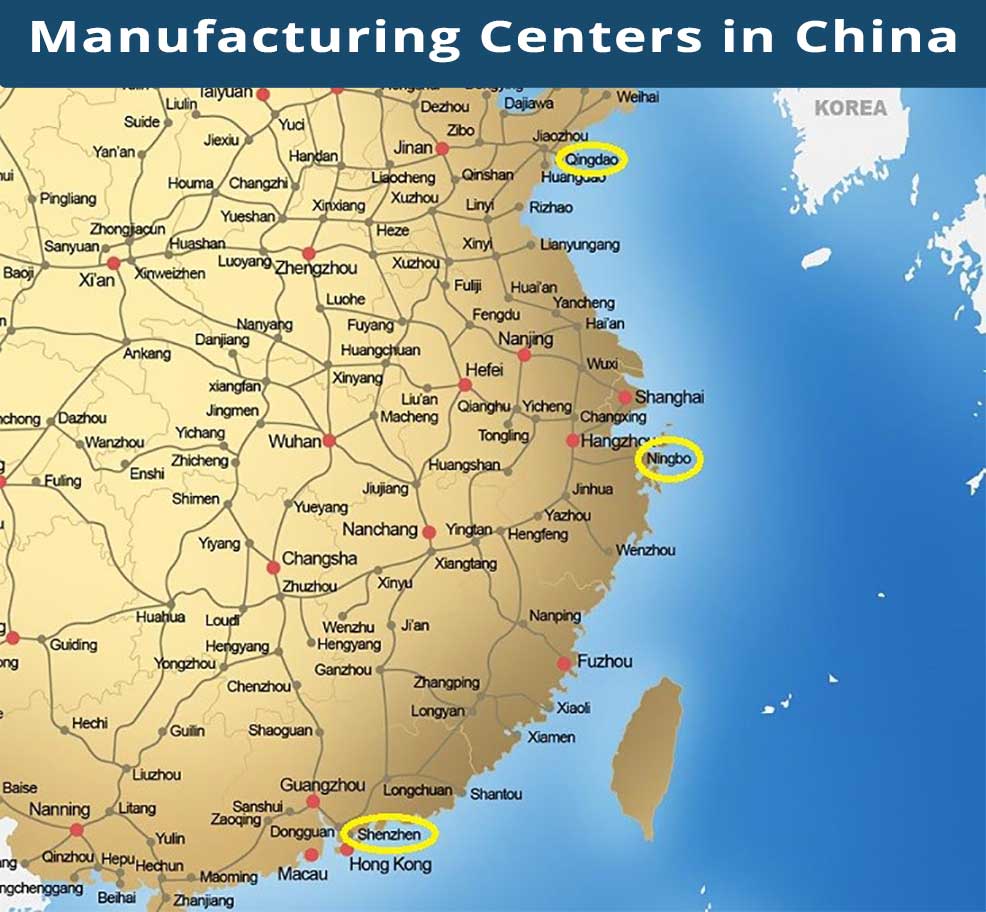 Exporting from China
Most of China's industry is located along the eastern seaboard, which makes sense for a country that does a lot of exporting; the closer you are to coast the lower your freight costs. Beijing, the country's capital, is about 400 miles Northwest of Qingdao, which is where our northernmost partner company is located.
About Qingdao, China
Qingdao is located on what could be called the Northeast coast of China. It is a city of 10 million, and is an excellent launching point for sourcing product from factories in the surrounding regions. We've sourced machined parts, castings and forgings, plastic products, clothing and textile items, farming products, and more through our Qingdao partner. Qingdao is well known as the base for Qingdao (aka Tsingtao) beer, China's second largest brewery that was originally founded in the early 1900s by a German group. The city is also home to many prominent Chinese universities. It has established itself as a leading manufacturing hub of industry for the region.
About Ningbo, China
Ningbo is about 130 miles from Shanghai, and has a population of around 9 and a half million. In 2020, it ranked 8th for the wealthiest cities in China with a powerhouse economy. There are many tool, die and mold shops located in Ningbo, along with machine shops and manufacturing companies of other types of products. Ningbo is a coastal city which makes it a prime area for manufacturing and sourcing, and shipping. The Ningbo-Zhoushan port has been the world's third largest port. We've sourced a lot of metal parts from Ningbo.
About Shenzhen, China
Then there's Shenzhen. This metropolis of 17 million plus is the silicon valley of China. Foxconn, who manufactures the iPhone, iPad, HP and Dell's computers, and more, is located here. Manufacturing companies of every type of product, including metal, wood, plastic products, and clothing and textiles can be found here. The city is widely considered a global center in transportation, finance, manufacturing, research, and technology. Shenzhen is a ferry ride away from Hong Kong. Also another coastal city, Shenzhen is in an ideal location for manufacturing, sourcing, and exporting. In fact the port of Shenzhen is the 4th busiest port in the world. 
Finding Strategically Located Partners
Our three strategically located partner companies in China give us access to just about any product that is being made or could be made there. We have decades of experience helping people get their products made cost effectively while keeping quality standards.
Contact us for a product quote or give us a call at: 480-372-5285