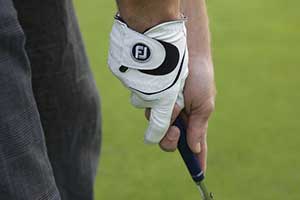 Just as your golf shoes can help you get solid footing and a good grip on the ground, your golf gloves should help you keep a steady grip on the club. If your hands sweat, the purpose of the glove is to avoid having the club slip out of your hands. If you have dirt on your hands, then the gloves will also help keep the grip clean.
A proper golf glove should fit like a second skin, tight across the palm and fingers, with no loose material.
Most golfers will typically wear a glove on their lead hand, that is, the hand that is higher on the club. Beginner golfers may want to a glove on each hand to avoid blisters.
Our partners can source high quality golf gloves to help your clients take their golf game to the next level.
Shell Material: Sheepskin, Goatskin, Lambskin, Cowhide, Deerskin, or other materials are available upon request
Lining Material: Cashmere, Wool, 50% Wool, Viscose, or other lining materials are available upon request
Size: Any size for men's and women's gloves available
Color: Gloves are available in Black, Brown, Red, or any other color upon request
Logo/Branding: Can be added with provided artwork files
Global Trade Specialists is Here to Help
We've been helping customers design, prototype, test and manufacture their products for over 30 years. Connecting customers to affordable and trusted factories in China we can help take your current products to mass production or help finish a new product idea. Our team is there to support you at every stage.
For more information about our sourcing inventory or getting a quote contact us!
Watch to learn more about sourcing golf products.