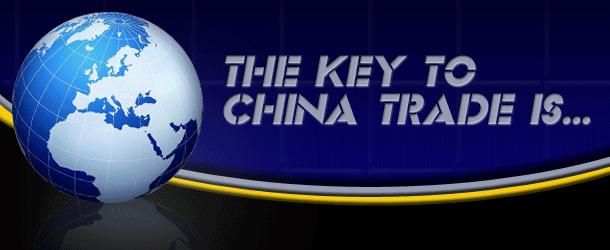 The key to China trade is your relationships over there. In China, who you know, and how well they know you, are critical to your success. The Chinese call it Guanxi:
"The Chinese and Western cultures conduct business differently, even if, on the surface, transactions seem to be the same. The Chinese prefer to work with people they know and trust, so are less inclined to simply close a deal. With a strong relationship, however, you can be trusted and even favored. This relationship extends between companies and also between individuals at a personal level on an ongoing basis."
"Who you know," Guanxi, is an essential component of trade with China. Guanxi relationships can get better prices, faster delivery times, and, if a shipment goes bad, provides replacement parts. Guanxi doesn't guarantee there won't be problems, but in a country like China where doing business is more complex than it is here (just understanding the concept of "face" and how it affects the business process takes time), it can make a difference.
Trust is an issue on both sides when you want to buy from China. Not all factories in China can be relied upon to deliver quality product on time. China's reputation for piracy is well earned, and there are many horror stories of importers who've been burned with a shipment of defective product. When you want to buy from China, you need to be careful when choosing the supplier for your products.
We have been in business since 1991, and have spent years cultivating the Guanxi relationships in China that make business a success. When you work with us, you gain the advantage of our relationships without having to spend the time and money to develop your own (along with learning the business culture). Our relationships in China provide you with reliable sources that you can trust.
To buy from China with GTS means:
We source reliable manufacturers of quality products for you.
No expensive, time consuming trips to China.
No time wasted in finding the right China manufacturer.
You avoid the expensive mistakes that many first time importers make.
Expert guidance in the importing process – We show you how easy it is.
Ready to buy from China? Contact us now