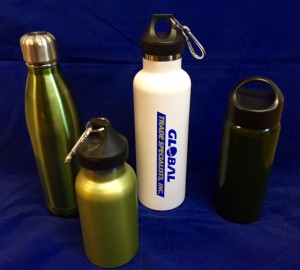 By estimates, Americans purchase some 51 billion water bottles per year. That is nearly 1 billion per week! Of that number, around 25 % are being recycled. Imagine a water bottle filled a quarter of the way with crude oil. That is how much oil it took to manufacture that one bottle.  Now expand that out and you are looking at millions of barrels of oil just for the U.S. demand of water bottle manufacturing. But, there is more to consider, bottle caps and plastic wrappers must also be manufactured and then shipped all over using more fossil fuel and increasing greenhouse gasses. There is also the fact that the production of a one liter bottle takes takes 1.39 liters of water to produce.  This means that people that care about the environment are looking for alternatives as they go green!
In addition to the concerns regarding the environmental impact of disposable water bottles are the health implications of the regular use of plastic, especially when exposed to high temperatures.  The best and safest options are glass and stainless steel.  Using glass on the go comes with risk as it breaks easily.  More and more, people are looking to stainless steel!
We source stainless steel water bottles at up to 70% less than retail price with minimums ranging from 500 to 1000 each.  To capitalize on the health benefits and environment friendly status of stainless steel, you will want to ensure that your bottles have 100% food grade stainless interior with no clear plastic lining and if there is a plastic cap that it either has stainless steel covering on the inside or is free of BPA, phthalates, lead and other toxins.  Custom colors, logos and designs are available!