In this issue:
* Pictures and Comments from IMTS 2014
* The Chinese New Year Holiday
* The Exchange Rate
* Want a Quote?
Pictures and Comments from IMTS 2014
By Mike Genung
I had a booth at the International Manufacturing Technology Show in Chicago last month. It's the largest trade show of its kind in North America, and is held once every two years. The show is for anything to do with manufacturing with metals, and is massive; they had more than 2000 exhibitors and a record 114,000 attendees.
AMT, the people who put on the IMTS show, offered a service where we could send emails to the companies that had preregistered for the show. I made use of that and offered persons a quote, in addition to inviting them to my booth. Here are two of the more colorful responses:
"Hey here is a quote
Go bend over in China and stay there."
"I'll gladly keep my boots on this good ole US of A soil. Furthermore, I'd gladly shove one of my boots up your you know what!" 
While I can appreciate their passion to keep as much manufacturing in the US as possible, I always want to ask the senders of emails like this if they have any Chinese measuring or cutting tools in their facility, an iphone, a Dell or HP computer, an HP laser printer, or any other product made in China. I don't mind the colorful emails, but would appreciate intellectual integrity on their part. (Many of my customers, by the way, are American manufacturing companies that need to source some of their parts overseas in order to compete in the reality of today's global economy.)
Anyway, back to the show. Following is a picture of my booth: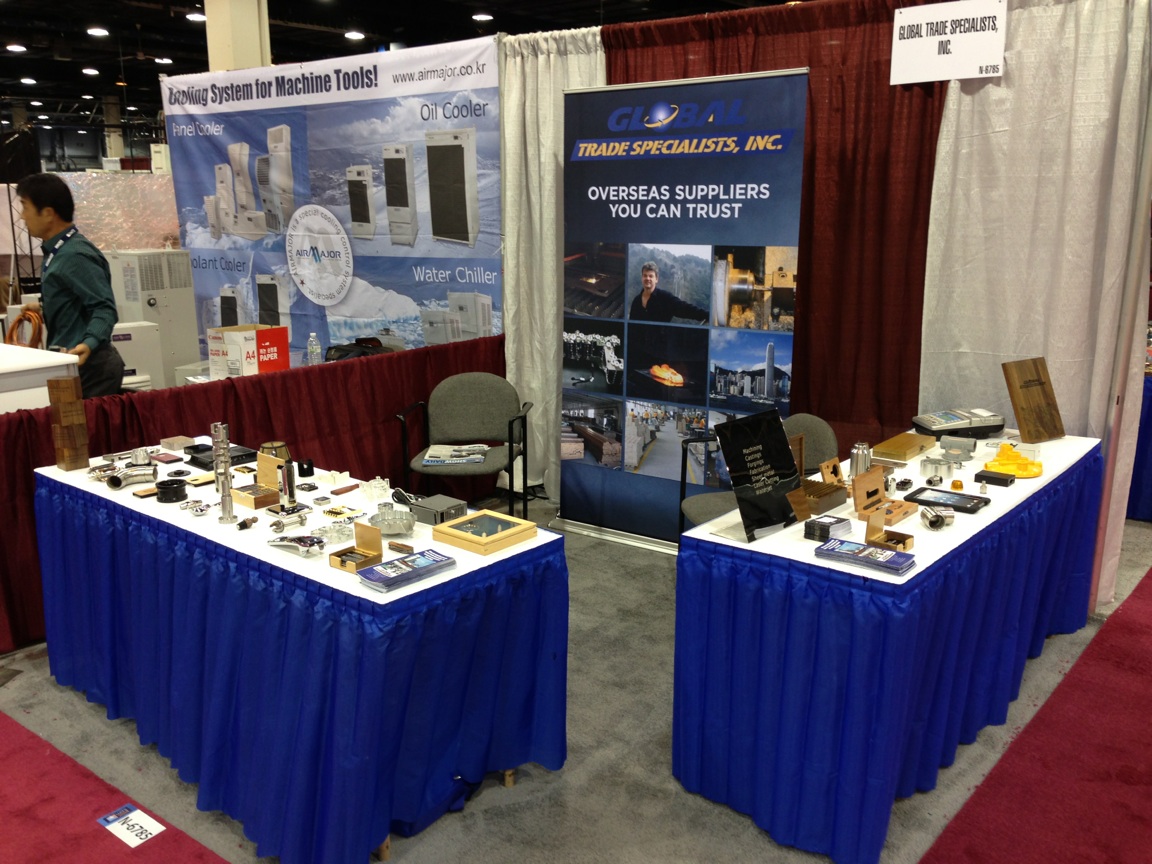 I find the comments people make during the show fascinating and always learn something when exhibiting.
The owner of one American company told me his domestic customer told him the following after he quoted them a price for a part:
"Your price was the lowest among domestic manufacturers, but was 65% higher than my Chinese source."
His comments will give you an idea of the possible spread between the cost of a domestic made product versus one made in China.
"How do you know if you can trust a manufacturer in China?"
My answer: "The only way to know for sure is to either visit the factory yourself and learn the Chinese business culture, or work with someone with experience who has boots on the ground in China, which, we do."
During lunch I sat down with a guy who shared the following:
"Machine Shops in Alabama are closing because of the uncertainty and regulations of Obamacare. Some, rather than sticking it out, are selling or even closing their shops."
What often seems to get left out of the debate on the Affordable Health Care Act is that it's a job killer. Businesses are switching their employees to part time hours to avoid the additional cost of having to pay their health care tab. This was the first time I'd ever heard of businesses closing because of the law.
One company built an electric car on-site from the ground up via 3D printed parts. It was interesting to watch and could be a beacon for the future where a car could be built in a week. Here are some pictures: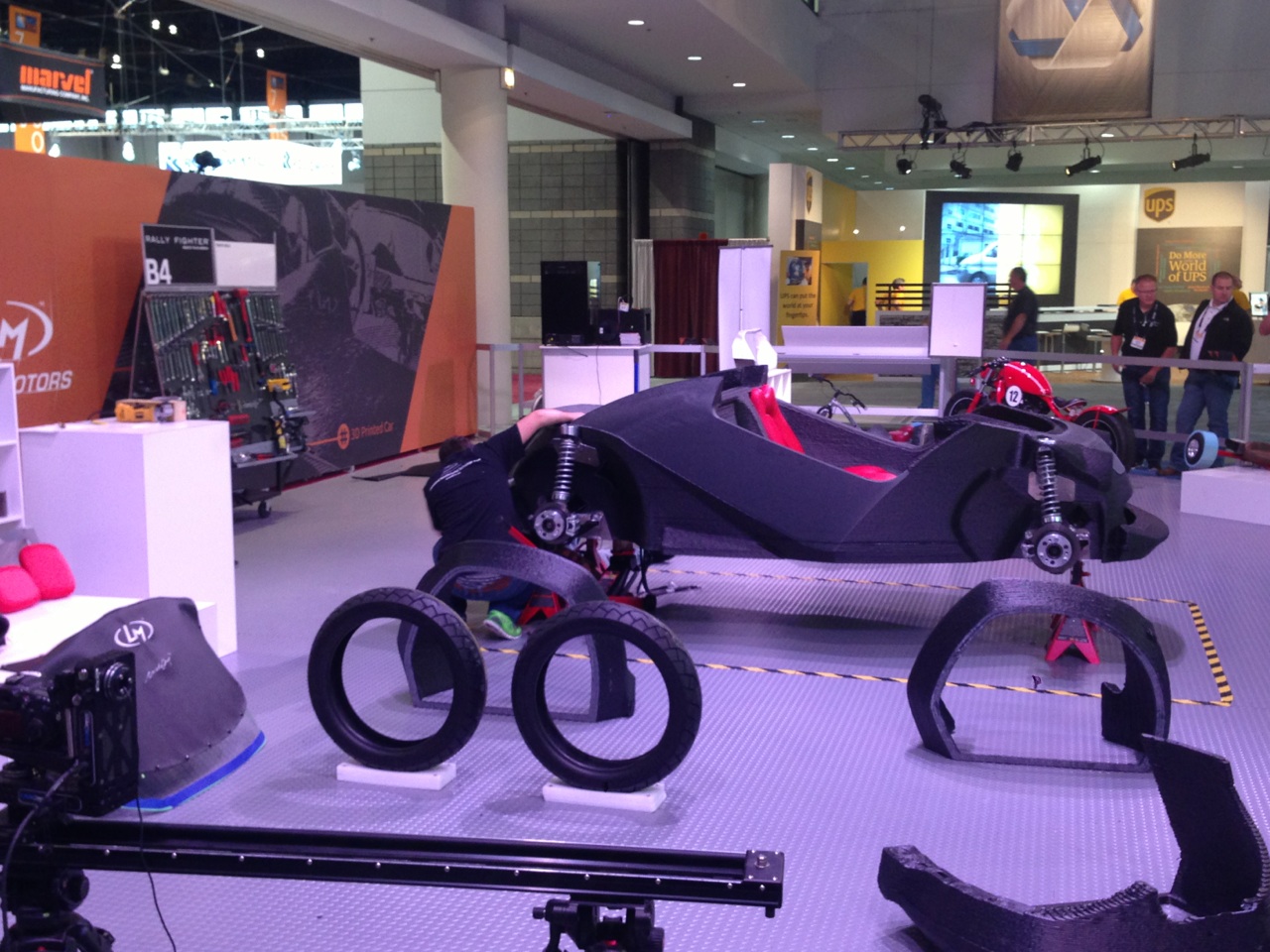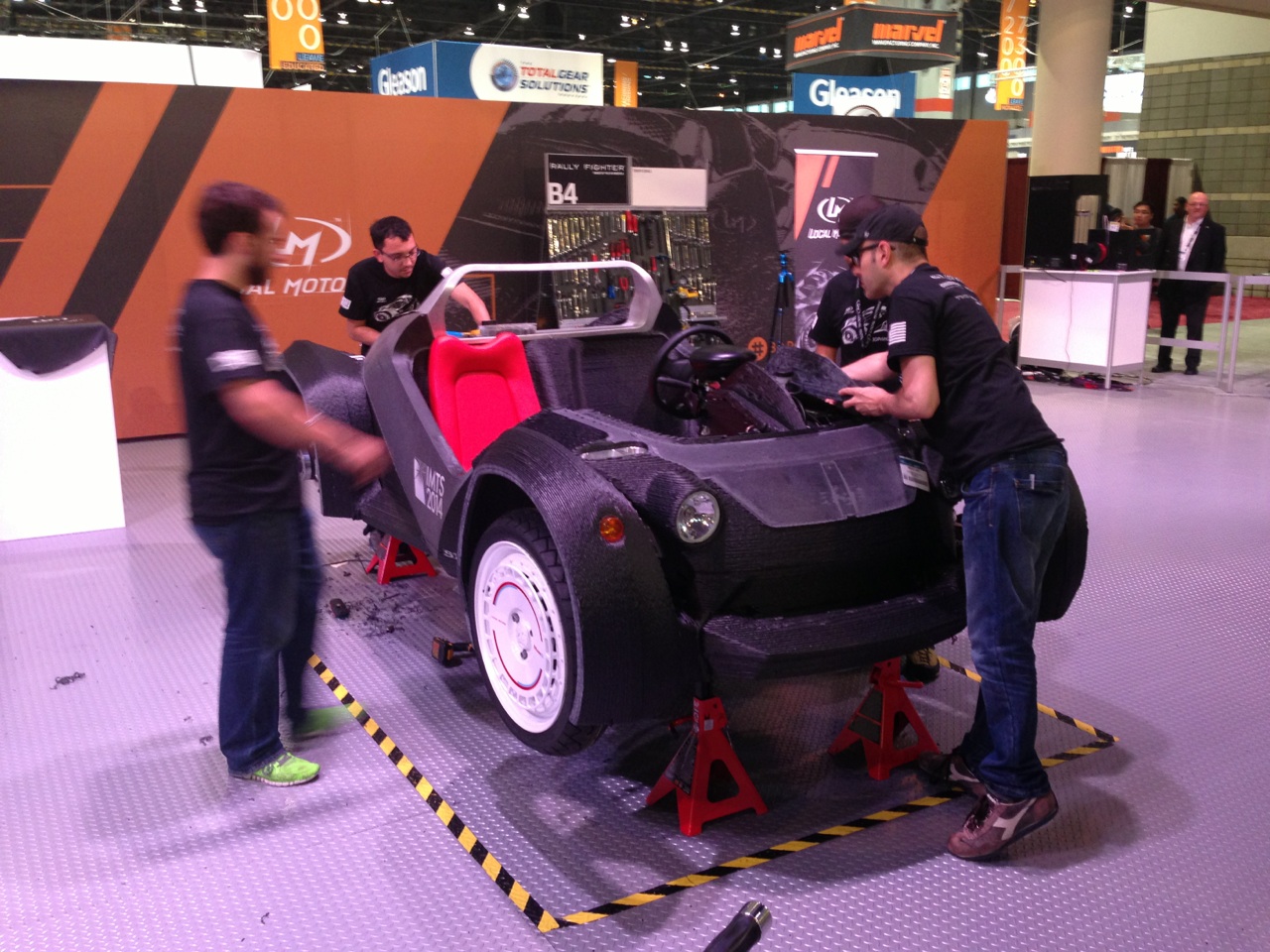 The Chinese New Year Holiday  
As I write this newsletter, Chinese companies are still closed for their fall holiday; they shut down on October 1 and will still be closed until October 8. While a week long national holiday may seem like a lot to us, it's nothing compared to the Chinese New Year holiday that hits around the end of January each year. Chinese companies close for anywhere from two to three weeks, some even longer; the month of February is basically lost for production time.
The time to start planning for this annual interruption of production time is now. If you need product by February or March then the latest an order should be placed is November 10, in order to give them at least two full months of production time. Many factories stop taking new orders around the middle of January because they're backed up getting last minute orders shipped.
The Exchange Rate
The Yuan has been strengthening against the Dollar recently.
Yuan to the dollar, as of today: 6.14 to 1
Rate when the Yuan was depegged from the dollar on June 19, 2010:  6.82 to 1
Change: .68 (9.9%)
Want a Quote?
There's no charge for us to quote your project. We need the following to get started:
* Engineer's drawings with all dimensions, tolerances, and material requirements, and/or a sample to send to China. Sometimes pictures with all major specifications will work, if it's a simple product. We can refer you to a company that can do engineering and prototyping if you need these services.
* Purchase quantities. Our suggested minimum purchase value is $10,000.00. The actual minimum will depend on the factory.
* The major city you are nearest to, so we can include the freight with the prices.
* Details on how you want your product packaged, i.e. individually or in bulk, plain cardboard box or with color labels, blister pack, etc.
Quick Links:
Global Trade Home Page
Importing from China
Products We Source
Read testimonials from some of our customers.
New Product Development
Newsletter archives
FAQs
Email us for a free quote.
Previous Newsletters:
August 2014: Visit Us at IMTS 2014
July 2014: The Importance of a Good Customs Broker
June 2014: The Chinese Disappearing Act
May 2014: The Chinese People
April 2014: Video and Images from Last Month's China Trip
March 2014: China's Debt
February 2014: Reference Points
January 2014: If You Don't Know Who You're Dealing With…
December 2013: Images from Last Month's Trip to China
All material copyright 2014 Global Trade Specialists, Inc.
This newsletter may be reprinted as long as the copyrights and a link to the Global Trade home page (www.mgtrading.com) are shown at the end of the article.