In this issue:
* Planning for Christmas Inventory
* China's Stock Market Blows Up
* News Bites from China
* Mold Storage
* The Exchange Rate
* Want a Quote?
Planning for Christmas Inventory
By Mike Genung
Every September, we get calls from customers who need inventory by November 1 for the Christmas selling season. By then, it's too late.
Not counting product development or sample approval time for new products, in general, production time is six to eight weeks for most products, depending on the purchase quantity and where the factory is in their production schedule, plus five weeks for transit time by sea, depending on the final destination. Chinese companies are closed the first week of October for their fall holiday, which adds another week. An order placed September 15 would need 3 months to get here, meaning you'd receive the shipment around mid-December, assuming there are no hang ups with U.S. Customs.
For companies that need inventory in hand for the Christmas selling season, the latest an order should be placed is July 15. This would give you a little cushion in case there was a snag; you should see your shipment by mid-October. Orders for new projects requiring new molds, tooling, or samples should be placed immediately.
China's Stock Market Blows Up
The mess in China's stock market has been seemingly lost compared to the recent media coverage of the Greek default. In the past few weeks China's stock market has tanked 29%, wiping out more than three trillion dollars of Chinese wealth. Only 1.5% of China's stock market shares are foreign owned, which means most of the loss is contained in their domestic market.
China has responded by cutting interest rates, halting new IPOs, pumping a little money into their stock market with a plan to invest nearly 20 billion US dollars (120 billion yuan) in a market fund, and limiting margin trading (stock investments made on borrowed money).
For now the consensus seems to be that the damage from the stock market earthquake in China will be contained to their country as long as it doesn't keep falling… which is the big question. If the Chinese stop spending and importing products from other countries it could start affecting the global economy. Let's hope not.
News Bites from China
China has 200,000 traffic related deaths annually, with 20 million new vehicles added to the streets each year. 35% of drivers rate themselves as angry.
"What is the point of pursuing fast GDP growth if people get sick (from their pollution problems)? We will have to spend all that newfound money on treatment."
Xie Fuzhan, governor of Henan Province.
China holds $1.26 trillion worth of US bonds, 34 billion more than Japan.
"New Drug": the number one search term on Baidu in May, China's largest search engine. Police in Harbin claimed to have found a new illegal drug that causes people to bite others "like zombies."
440,000: the number of followers Tim Cook, CEO of Apple, added in the first day after he set up an account with Weibo, China's version of Twitter. Cook visited China in May, and is the first CEO to do so.
Source: News China
 Mold Storage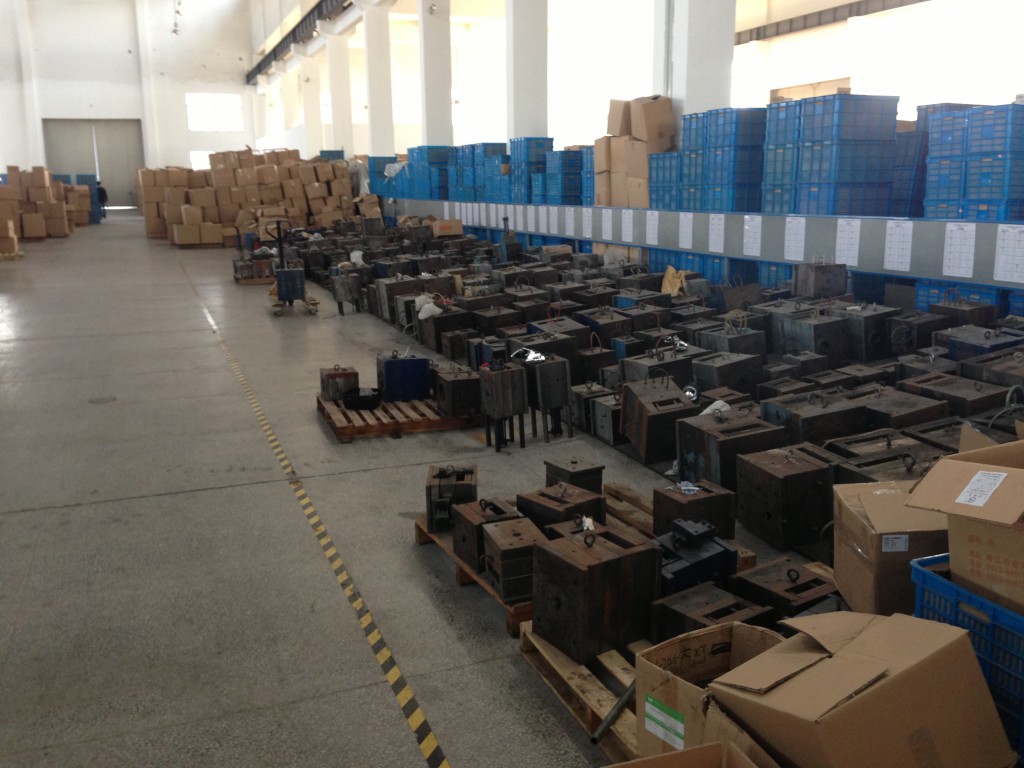 Above is a picture showing the steel plastic injection molds one factory in Ningbo had that I visited in 2013. This was just one room of one of their buildings; there were many more molds they were storing. Chinese manufacturing companies can't hold on to molds indefinitely due to space limitations. After a mold sits unused for more than three years, the factory may dispose of it. Every once in a while we are contacted by a customer who hasn't used their mold for five years or more; by that time the factory has scrapped them. Storage options should be discussed for molds that have not been used for three years or longer.
The Exchange Rate
Yuan to the dollar, as of today: 6.21 to 1
Rate when the Yuan was depegged from the dollar on June 19, 2010:  6.82 to 1
Change: .61 (8.9%)
Want a Quote to Source Product from China or Taiwan?
There's no charge for us to quote your project. We need the following to get started:
* Engineer's drawings with all dimensions, tolerances, and material requirements, and/or a sample to send. Sometimes pictures with all major specifications will work, if it's a simple product. We can refer you to a company that can do engineering and prototyping if you need these services.
* Purchase quantities. Our suggested minimum purchase value is $10,000.00. The actual minimum will depend on the factory.
* The major city you are nearest to, so we can include the freight with the prices.
* Details on how you want your product packaged, i.e. individually or in bulk, plain cardboard box or with color labels, blister pack, etc.

Quick Links:
Products We Source
Read testimonials from some of our customers.
FAQs
Email us for a free quote.
Previous Newsletters:
May 2015: Volatility, Opportunity, and What Not to Do
April 2015:  The Worldwide Release of Our New Video
February 2014: Finally, an Agreement at the West Coast Ports
January 2014: We are Now Sourcing from Taiwan
December 2014: New – Hardwood Cell Phone Cases
October 2014: Pictures and Comments from IMTS
August 2014: Visit Us at IMTS 2014
July 2014: The Importance of a Good Customs Broker
All material copyright 2015 Global Trade Specialists, Inc.
This newsletter may be reprinted as long as the copyrights and a link to the Global Trade home page (www.mgtrading.com) are shown at the end of the article.