In this issue:
* Finally, An Agreement at the West Coast Ports
* Chinese Junk
* Overheard in China
* The Exchange Rate
* Want a Quote?
Finally, An Agreement at the West Coast Ports
By Mike Genung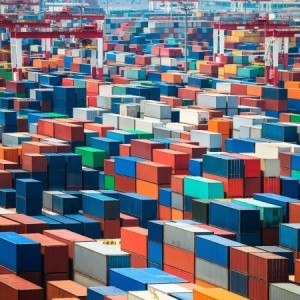 After nine months of negotiations and a nightmare backup at the 29 West Coast ports that was causing widespread havoc to businesses all over the country, the Pacific Maritime Association and International Longshore and Warehouse Union finally reached an agreement that will get the dockworkers back to work.
Increasing pressure from California senators and the governor played a part; public perception was also tanking after it became known that the Union was holding out because of their demand that one dock official was fired. I have no idea what this has to do with a wage and benefit contract… when I read things like this it makes me wonder if they were taking stupid pills.
West Coast Longshoreman are reportedly making $147,000.00 a year, with an additional $50,000.00 in annual benefits.  While they have a dangerous job (it wouldn't be your best day if a 40,000 pound container fell on you), the average Joe on the street will have a hard time understanding why 20,000 dockworkers with a six figure income and a benefits package worth more than the average American makes were train wrecking the U.S. economy. A Weyerhauser paper mill in the northeast reportedly shut down their plant of 500 employees due to their inability to receive inventory in time, and many businesses have lost large orders.
Anyway, the good news is that they finally worked it out. The not so good news is they think it will take three months to clean up the mess. There are 22 vessels docked at the port of Los Angeles, with another 35 anchored, plus 24 more en route.
Chinese Junk
During a trip to trip to Hong Kong in 2013, I took this shot of a Chinese Junk. A Chinese Junk is a thousand year old design of an Asian sailboat that can still be found today, mainly for pleasure excursions. It was interesting to see China's modern skyscrapers as a backdrop for a vessel that symbolized their ancient history.
"For Chinese people, buying an iPhone is more to keep up appearances than to show off. iPhones are actually quite cheap compared to other luxury item, but somehow they have become a status symbol and a fashion icon."
Wang Sichuan, on the high demand for the iPhone in China.
"Smoggy Cities"
The fourth most popular search query in China's Baidu search engine. Chinese citizens have taken to posting pictures of their hometown cities, covered in heavy smog.
Source: News China
The Exchange Rate
Yuan to the dollar, as of today: 6.26 to 1
Rate when the Yuan was depegged from the dollar on June 19, 2010:  6.82 to 1
Change: .56 (8.2%)
Want a Quote to Source Product from China or Taiwan?
There's no charge for us to quote your project. We need the following to get started:
* Engineer's drawings with all dimensions, tolerances, and material requirements, and/or a sample to send. Sometimes pictures with all major specifications will work, if it's a simple product. We can refer you to a company that can do engineering and prototyping if you need these services.
* Purchase quantities. Our suggested minimum purchase value is $10,000.00. The actual minimum will depend on the factory.
* The major city you are nearest to, so we can include the freight with the prices.
* Details on how you want your product packaged, i.e. individually or in bulk, plain cardboard box or with color labels, blister pack, etc.
Quick Links:
Global Trade Home Page
Importing from China
Products We Source
Read testimonials from some of our customers.
New Product Development
Newsletter archives
FAQs
Email us for a free quote. 
Previous Newsletters:
January 2014: We are Now Sourcing from Taiwan
December 2014: New – Hardwood Cell Phone Cases
October 2014: Pictures and Comments from IMTS
August 2014: Visit Us at IMTS 2014
July 2014: The Importance of a Good Customs Broker
June 2014: The Chinese Disappearing Act

All material copyright 2015 Global Trade Specialists, Inc.
This newsletter may be reprinted as long as the copyrights and a link to the Global Trade home page (www.mgtrading.com) are shown at the end of the article.