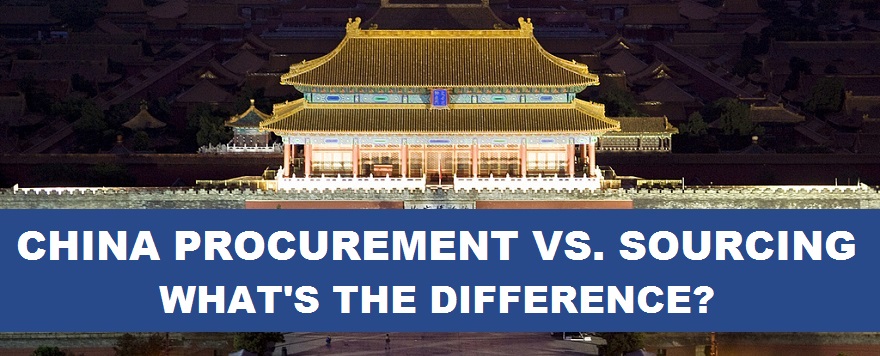 Although some people use the terms "procurement" and "sourcing" interchangeably, they actually refer to different aspects of the same part of your business. Procurement and sourcing are two distinct approaches to buying the components, raw materials, supplies, and services a company requires to run effectively.
In today's global economy, many companies are turning to China for their procurement and sourcing needs. Global Trade Specialists meets the sourcing demands of our customers through established relationships with three reliable trading groups in China.
This article will explain the difference between procurement and sourcing as they relate specifically to Chinese trade.

Procurement
Procurement is the process of obtaining the goods and/or services your company needs to carry out its business model and fulfill customer demands. Generally, the procurement process involves developing quality standards or guidelines, financing purchases, negotiating the price of goods or services, buying goods, and managing inventory.
In the context of the overall supply chain process, procurement is thought to end once your company takes possession of the goods procured.
In order to make a profit, your company must procure goods at a cost much lower than what your company sells the goods for, taking into account whatever costs are associated with processing and selling them.
Since procurement can be very expensive, many companies turn to China at this critical stage in the supply chain process. Some companies hire procurement specialists in China to manage procurement needs. Other companies attempt to manage procurement in China remotely.

Sourcing
Sourcing refers to locating the sources of the goods and services your company needs. This might include factories, manufacturers, or wholesale distributors.
Many people consider sourcing to be a subsection of the overall procurement process. As discussed above, procurement is concerned with the logistics of acquiring materials. Sourcing focuses on identifying and locating reliable and inexpensive suppliers for those goods. Some of the components of the sourcing process include scouting, negotiating, testing for product quality, and market research.
As you know, a company's profits depend heavily on finding appropriate sources. Often, these sources are in China.
Global Trade Specialists is a China product sourcing agent. We work to find ideal Chinese sources for our customers. Because we are an agent, we are not obligated to promote any one manufacturer. We source the best manufacturer to produce your product.
We partner with companies that verify the legitimacy of source factories in China. We also take steps to ensure that your sourced products meet your specifications.

Need help? Contact us today!
A China product sourcing agent like Global Trade Specialists can help meet your sourcing needs, and will work hard to ensure that you are treated fairly in sourcing negotiations with Chinese companies. Call Global Trade Specialists at (719) 264-5007 today to discuss your China sourcing needs, or contact us online here.
---
Image Credit: