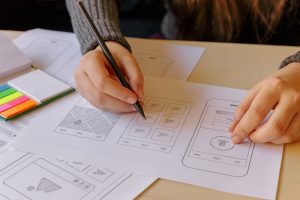 Prototyping is the first step taken to bring any product to the market. It is crucial that you finalize your designs and have a tested prototype before starting on any manufacturing to make sure your product functions exactly as you need it to.
We recommend getting your designs and prototypes made in the U.S. This article explains why.
Prototyping starts with creating engineer drawings. These can be made in a variety of different types of files including CAD files (Computer Aided Drafting), 2D PDFs, and more, depending on what it will be used for.
The cost for this can range depending on the complexity of the project. A simple job that requires CAD designs for the client to use themselves can cost about $40 per hour. Something much more complex that requires a ton of client input with integration of electrical components and programming could take over a year and might cost over $20,000.
Most engineers will follow the process below.
They will gather information about the project and its function, including how it will be used, what stresses and environmental hazards it might need to endure, material restrictions, and more.
After the engineer gathers the information he needs, he will put together a proposal that includes the scope of the work involved in completing the project.
When the proposal is approved, the engineer will start working on the 3D modeling of the project and send it to the client for approval. Recommendations for alternate materials and dimensions may be provided as well.
Once the design renderings are approved, a quote for prototype production will be sent to the client, which can include form, fit, function, and assembly testing to make sure the design is sound.
After the prototype is complete, it is sent to the client for further testing and approval. If any changes are needed, a new prototype will be produced and sent to the client, and the process will repeat until the client is satisfied with the design.
Finalized drawings are produced. Once the design is put into production, seamless improvements are sometimes made to help expedite the manufacturing process.
Every project is different and has its own challenges, but a typical range for the design and prototyping process can run from $1,500-$10,000 and from 6 weeks to 8 months.
Visit our Get Quote page to see if we can help you with your prototyping and development needs.
Image Copyright : carmenmsaa