By Mike Genung
I was in China the last week of November, and always learn something new every time I'm there.
Following are pictures from two of the factories I visited.
The first set are from a manufacturer that does close tolerance machining work. By close tolerance I mean they can hold .0005. In addition to working in common materials like steel and aluminum, they're also experienced with exotic materials like Titanium and Inconel. They have a temperature controlled inspection room that includes a coordinate measuring machine, and an optical comparator. They also do assembly work of complex products.
Here's a picture of a sample part made from steel they showed me: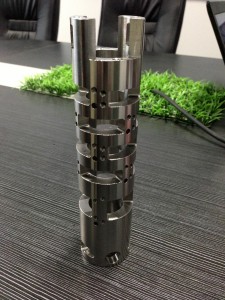 And here's a part that they do the assembly on: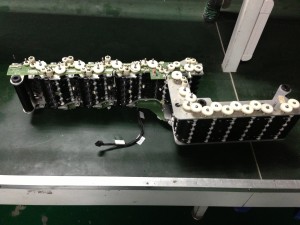 Just thinking about putting something together like this gives me a headache.
Their CNC machinery is imported from outside of China. The company president told me that they change their tooling often, which helps insure they hold tight tolerances to print.
The next images are from a factory that specializes in plastic injection molded parts. They have a sprawling facility; their complex was made of four large three story buildings. Several hundred employees work at this facility; with their other branches they have around 500 employees total.
This is a picture of one of their production rooms. The bags at the front contain plastic in raw material form; a row of plastic injection molding machines are behind.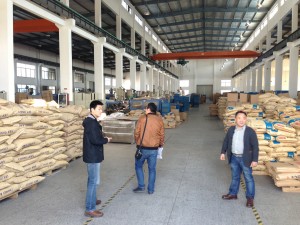 Here's a picture of one room showing their customer's molds. They had a lot more molds in their facilities; this was just one part of one room: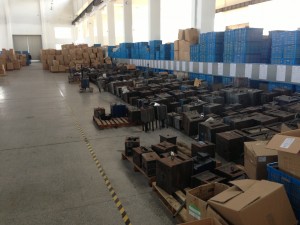 They also have their own plating facilities on site. Here's an image of parts that are drying: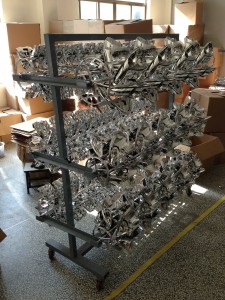 This factory has huge production capacity. This factory would be a good choice for those who need to get large quantities of plastic parts made.
Did You Know…?
The average Chinese worker makes $2.00 an hour, and works six 10 hour days, Monday through Saturday. Although those 60 hour work weeks must feel long at times, they have about a month's worth of holidays each year. This includes the Chinese New Year where the entire country is shut down for two to three weeks, starting the third week of January.
Temporary workers can be paid as little as $1.50 an hour.
The Hidden China
The Chinese government blocks internet access to Facebook and Youtube there. Or at least it tries to. One man told me that many College students are using software that changes their IP address, which allows them to access Facebook and other blocked websites. He told me this was "the hidden China not everyone knows about."
I found this fascinating, and it reminded me of one of the benefits of opening up trade between China and the U.S. If China had still been a closed country, their people wouldn't have been exposed to the freedoms and other blessings we enjoy. They've been making incremental steps of progress in some of these areas for years; for one, in many ways China is now just as capitalistic as we are. This is not to say there aren't problems (as in piracy or hacker issues), but that in the exchange of ideas we can learn from each other.
Two contrasts I see are the Chinese work ethic, and their frugality. Often, when I've sent a sample part to China, they later sent me another part that is packaged in the same box I sent to them. We tend to waste a lot here in the States.
Back in the 80's, when the socialist/communist work ethic still had a hold on the country and there was no motivation to succeed, it wouldn't be uncommon to see workers standing around at a factory. I remember watching one employee in a room of five working at his station, while the others stood around and chatted. Now, with the ability to profit from their efforts, they work like bees. While there are many in the United States with a strong work ethic, lately it seems the entitlement mentality has woven its way into much of our society; people have their hand out for government freebies and complain about what they don't have instead of going for it with persistence and creativity.
Perhaps if we as a nation went back to encouraging the strong work ethic that brought us this far instead of promoting the victim mentality, we'd start making strides forward again.
A little frugality in our borrow-til-you die government wouldn't hurt either.
The Exchange Rate
Ever since the U.S. government nearly defaulted recently month, the dollar has been steadily sliding against the Yuan.
Yuan to the dollar, as of today: 6.07 to 1
Rate when the Yuan was depegged from the dollar on June 19, 2010:  6.82 to 1
Change: .75 (10.9%)
About Us
Since 1991, Global Trade Specialists, Inc. has helped companies of all sizes get their products made in China from manufacturers of quality products. We are an American company who works with three trading groups in China with immediate access to thousands of manufacturing companies. We source most products made from metal, plastic, wood, stone, glass or textiles; from prototype to production. Many of our customers are first time importers; we walk you through the entire process.
 
More on what we do.
Products we source.
Read testimonials from some of our customers.
Email us for a free quote. 
 

Quick Links:
Global Trade Home Page
Importing from China
Products We Source
New Product Development
Newsletter archives
FAQs

Previous Newsletters:
November: Time to Plan Ahead for the Chinese New Year
October: China and the U.S. are Shut Down
September: When Life Interrupts Business
August: Video: Who We Are
July: What You Need to Know about the ISF Penalty
June: Tiananmen Square and Freedom
May: Our Most Critical Asset
April: Contrasts Between East and West
March: The Titanic; Made in China
February 2013: They're Back… Sort Of
January 2013: Business News and Trends for 2013

All material copyright 2013 Global Trade Specialists, Inc.
This newsletter may be reprinted as long as the copyrights and a link to the Global Trade home page (www.mgtrading.com) are shown at the end of the article.