In this issue:
* New – Engineering and Prototyping Services
* What You Should Know About Production Times and Holidays in China
* Our New Office in Europe
* Factory Pics
* The Exchange Rate
New – Engineering and Prototyping Services
By Mike Genung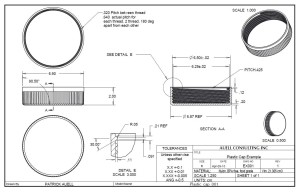 We receive many inquiries from customers who are just starting out and have a new product they want manufactured. Many don't have the engineer's drawings with all dimensions, tolerances, and material requirements production factories need for manufacturing, nor have they made a prototype and tested their drawings. Showing a prototype to your customers is also a key element of market research, as you'll want as many of your prospective customers as possible to provide you with feedback on your product's features, packaging and price.
Production factories in China are adept at mass producing a product to spec, but they're lousy at engineering and design. They also have little to no interest in producing prototypes, nor do they have the specialized equipment (such as a rapid prototype machine or 3D printer). For this reason, I've always recommended that my customers do their engineering and prototyping in the U.S.
We are now offering engineering and prototype services for products made from metal, plastic, or wood. Our engineer will work with you to produce first generation drawings, then have a company here in Colorado make a prototype. Our hourly rates are very competitive (we've seen some that are $100.00 an hour and up) and, depending on the amount of complexity, the first set of drawings can be ready in several weeks.
Please let me know if you're interested in speaking with our engineer.
What You Should Know About Production Times and Holidays in China
Many Chinese factories now have full production schedules as the Christmas season inventory push is in full swing. This will continue for the next several months. Then in November, a second wave of filling their production schedules hits as orders are placed to ship before the Chinese New Year shut down the end of January. Most of February is lost as Chinese companies are closed for the CNY celebration.
Chinese companies are also closed October 1-7 for their fall holiday.
This means that production times will be longer than normal, especially as we get closer to the end of the year. Please keep this in mind when planning new product development and orders.
Europe Office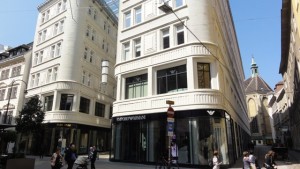 Earlier this year we set up a sales office in Vienna, Austria. From this semi-central location in Europe, we can source product from manufacturing companies in China for companies in the European Union, as well as the U.K.
Here is the new office location and contact info:
Global Trade Specialists, Inc., Europe Division
Tuchlauben 7a
1010 Vienna
Vienna, Austria
(0043) (0) 699 19220886
Director: Thomas Neumann.
Email: Thomas@mgtrading.com
To those who are in Europe and the U.K., let us hear from you!
Factory Pictures
Below are several pictures from a metal fabrication shop I visited in 2014.
While the Chinese have more (and sometimes longer) holidays than we do, many factory workers in China works six 10 hour shifts a week. That's a lot of 60 hour weeks.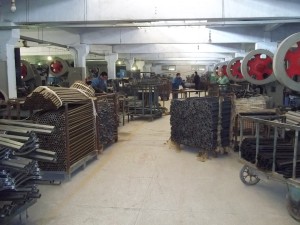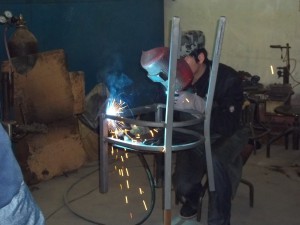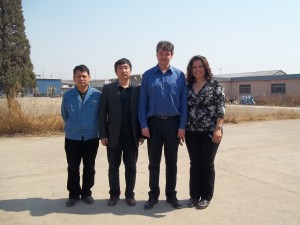 In this shot my wife is to my left. To my right is the president of one of my partner companies, and the factory director.
The Exchange Rate

Yuan to the dollar, as of today: 6.64 to 1
Rate when the Yuan was depegged from the dollar on June 19, 2010:  6.82 to 1
Change: 2.6%
Quick Links:
Global Trade Home Page
Importing from China
Products We Source
Read testimonials from some of our customers.
Marketing Services
New Product Development
Newsletter archives
FAQs
Email us for a free quote.
Previous Newsletters:
April 2016: Our New Office in Europe
February 2016: Are They Crazy?
December 2015: Our New Marketing Program
October 2015: Pictures from Last Month's Trip to China
August 2015: Marketing Tips and More
July 2015: Planning for Christmas Inventory
May 2015: Volatility, Opportunity, and What Not to Do
April 2015:  The Worldwide Release of Our New Video

All material copyright 2016 Global Trade Specialists, Inc.
This newsletter may be reprinted as long as the copyrights and a link to the Global Trade home page (www.mgtrading.com) are shown at the end of the article.