I often like to show you pictures from my trips to China so you can get a feel for what it's like over there. We (my wife and I) visited several cities and a slew of factories in China last month.
A lot of people think of a factory in China as being a dirty place, with old, broken down equipment and tired, worn out people working in slave labor conditions. While there are some factories that aren't up to our standards, there are many with up to date, modern equipment who are working in a clean setting.
Below is a picture of me at a factory who makes parts for us. The equipment behind me are CNC machining centers; this factory has the capability of working to close tolerances.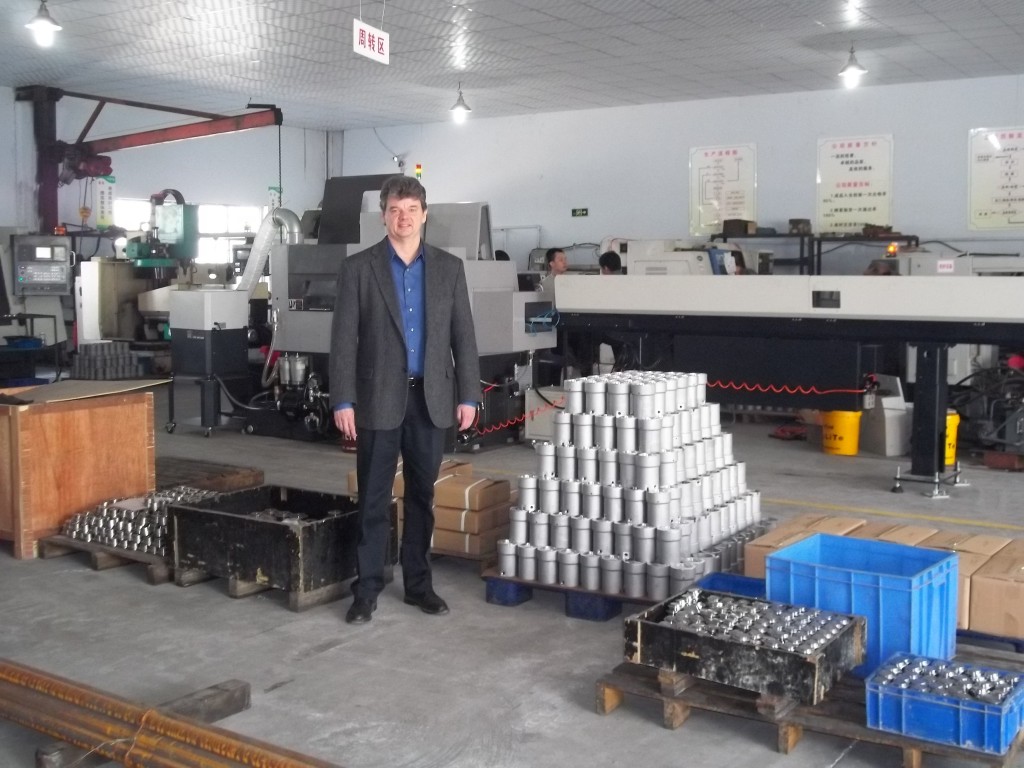 And here's a shot in their inspection room, with a coordinate measuring machine; a high tech machine used to inspect parts to close tolerances: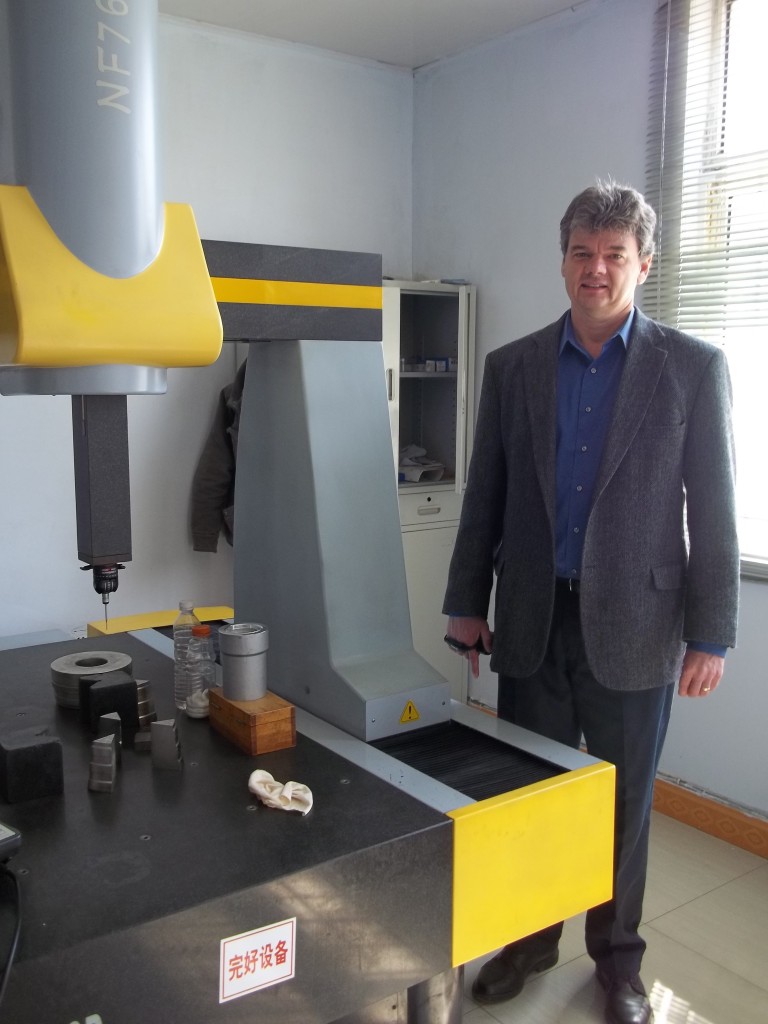 One factory had a puppy running around in their office. I couldn't resist taking a shot: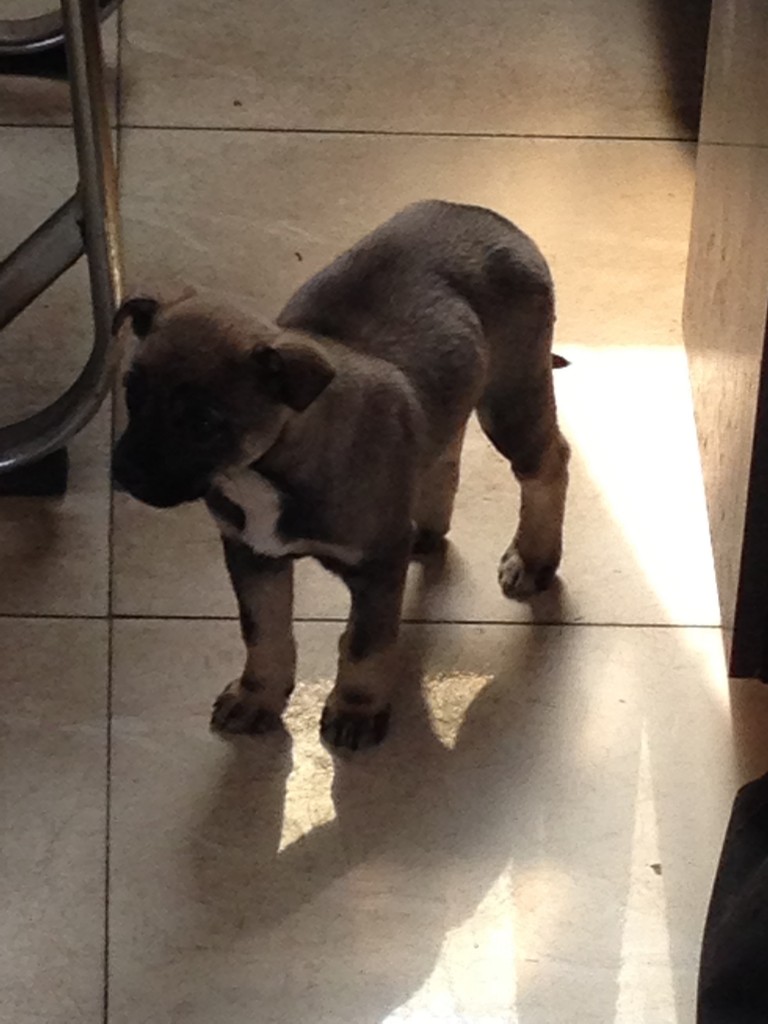 I thought about bringing one of our dogs to my office occasionally, but then the first time the phone rang or the UPS man walked in unannounced…. Nawww, not a good idea.
We also visited a large factory that makes wheels. Their quality is excellent, and they export their product all over the world. Here's a shot of their showroom: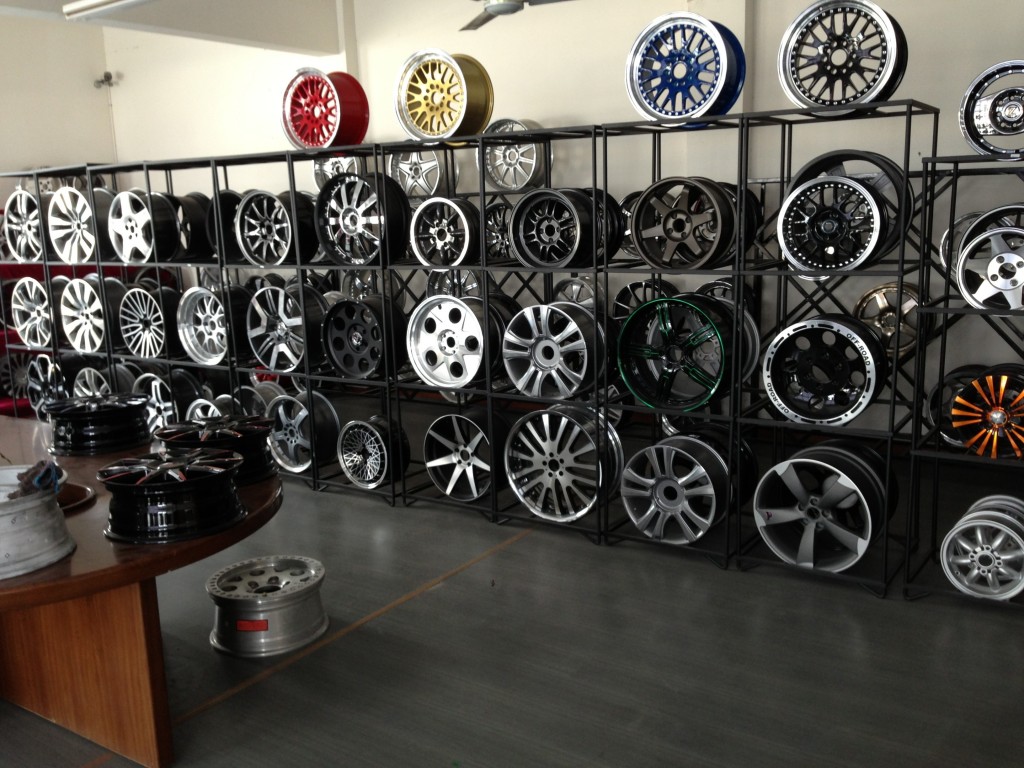 And another of wheels being turned on a CNC lathe: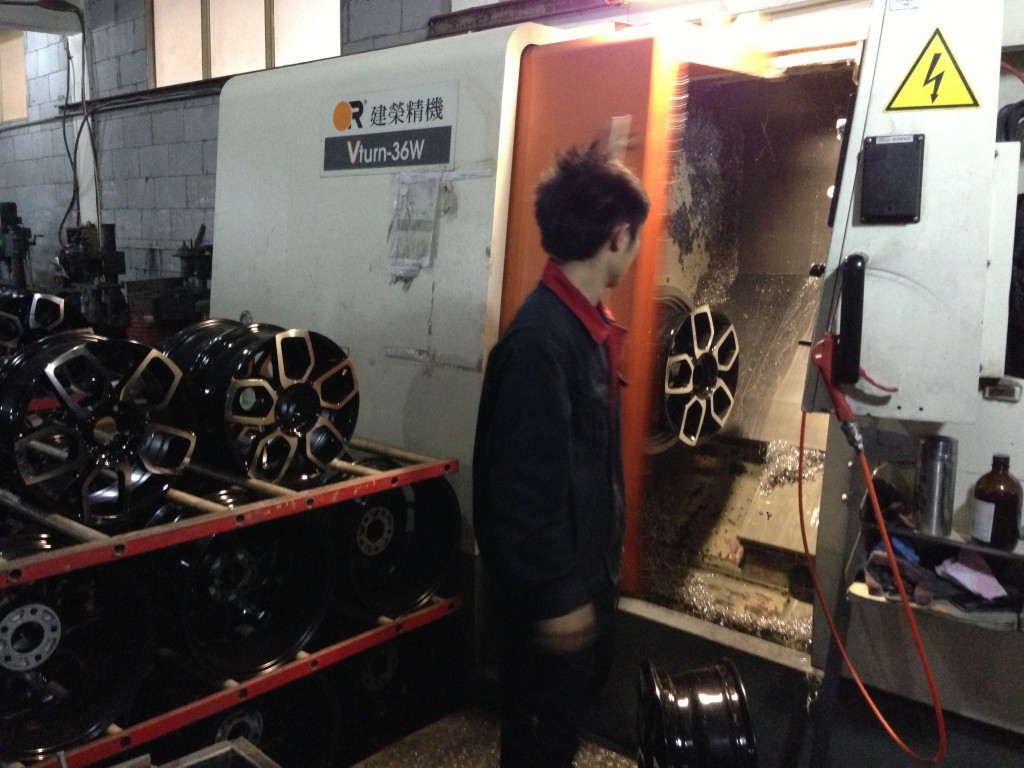 It is the custom of a Chinese host to take their foreign guests to dinner. The food they have in China is nothing like the deep fried, sodium and fat laden wanna-be stuff we have in the U.S.
They love seafood, and in some restaurants you choose your fish from a selection of the real thing instead of from a menu. Here's the selection spread at one restaurant we visited (Don't ask me what this is…)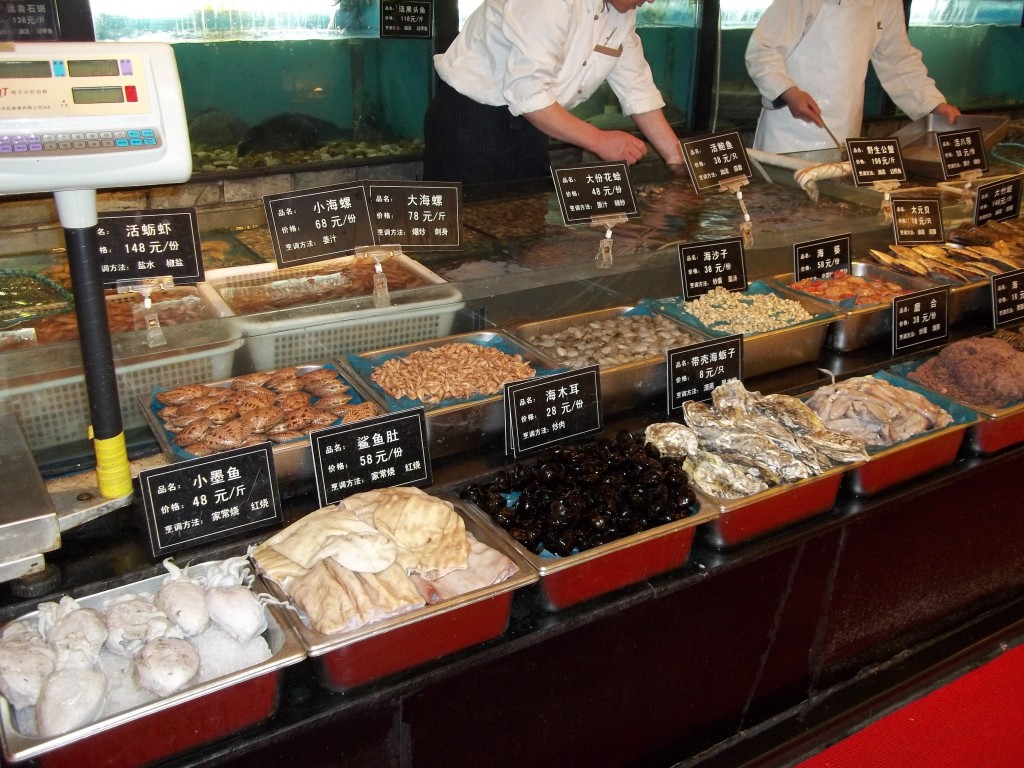 Here are the dishes at dinner one night. That's Beijing duck on the left. They normally bring about 20 plates when they feed us, so the typical meal can last a while.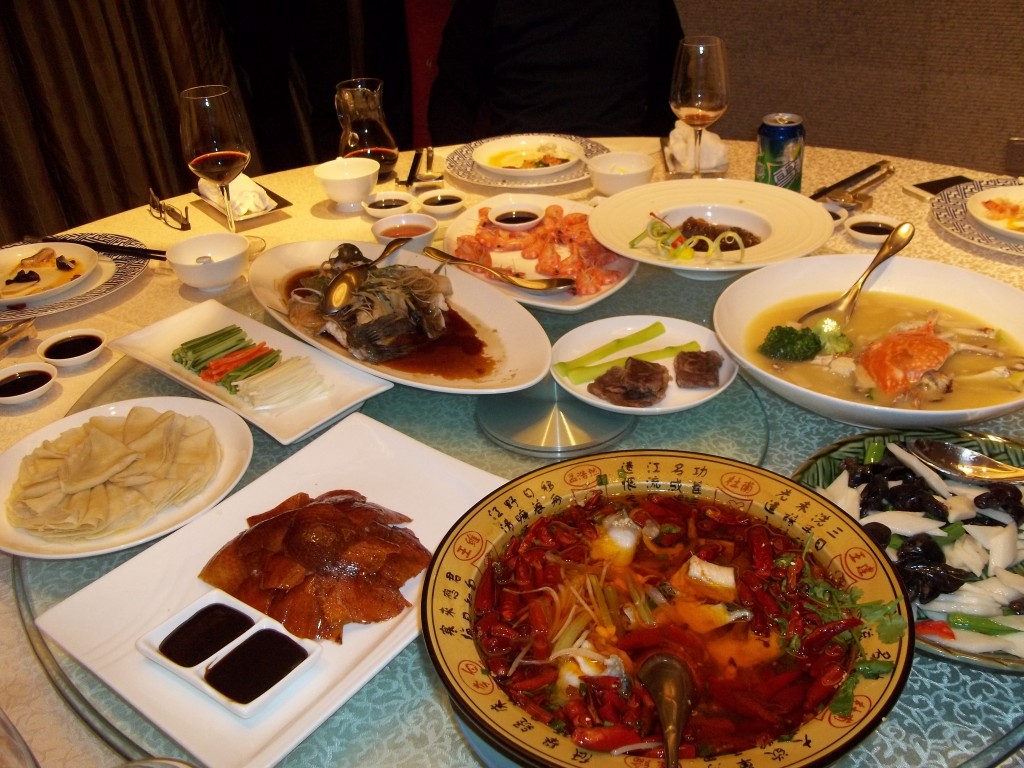 The Exchange Rate
The Yuan has bounced back up a little recently, which is good for the prices of imported products. After dipping close to 6 to 1, it is now at:
Yuan to the dollar, as of today: 6.20 to 1
Rate when the Yuan was depegged from the dollar on June 19, 2010:  6.82 to 1
Change: .62 (9%)
Quick Links:
Global Trade Home Page
Importing from China
Products We Source
Read testimonials from some of our customers.
New Product Development
Newsletter archives
FAQs
Email us for a free quote. 
Previous Newsletters:
March 2014: China's Debt
February 2014: Reference Points
January 2014: If You Don't Know Who You're Dealing With…
December 2013: Images from Last Month's Trip to China
November: Time to Plan Ahead for the Chinese New Year
October: China and the U.S. are Shut Down
September: When Life Interrupts Business
August: Video: Who We Are
July: What You Need to Know about the ISF Penalty
June: Tiananmen Square and Freedom
May: Our Most Critical Asset
April: Contrasts Between East and West
All material copyright 2014 Global Trade Specialists, Inc.
This newsletter may be reprinted as long as the copyrights and a link to the Global Trade home page (www.mgtrading.com) are shown at the end of the article.